The Observation Post – April 2017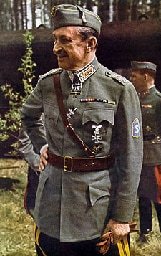 Sometime ago I received a one line note that said, "Hey Brooks, we're Israel too." It was simply signed "A Finlander". Along with most readers, I knew this, of course, but I never wrote on the subject and filed the note away. But, a couple of month's ago, I happened along a clip of a WW2 hero, Field Marshall Mannerheim.
Baron Carl Gustaf Emil Mannerheim was a Finnish military leader and statesman. His career was breathtaking. He served as the military leader of the Whites in the Finnish Civil War, He was Regent of Finland (1918–1919), Commander-in-Chief of Finland's Defence Forces during World War II, Marshal of Finland, and the sixth President of Finland (1944–1946). In a Finnish survey 53 years after his death, Mannerheim was voted the greatest Finn of all time. Mannerheim has long been referred to as the father of modern Finland.
And he knew that one of Jacob's sons migrated to the geographic area now known as Finland. And we ought to remember the valiant and brave conduct of the Finns prior to, and during World War II. But, here's the best part! In the face of an overwhelming Russian invasion of their country in 1939, Field Marshall Mannerheim was quoted as saying, "Sons of Issachar, stand and die, but let only scorched earth fall into the hands of the antichrists." Obviously, Mannerheim was both aware and knowledgeable of the Israel truth.
---
Of course, great men throughout history knew of their identity as Israel. How about the great king Alfred the Great when he advised his countrymen, "Be kind to strangers because your forefathers were strangers for four hundred years in the land of Egypt". Or when James VI of Scotland ascended the English throne as James I, and made that famous statement, "Israel's king has come to take Israel's throne". Then there was Alexander Cruden, who gave the world the first Concordance of the Bible, who addressed King George III as Hezekiah to our British Israel. And apart from the myriad of ordinary people, there was Sir Francis Drake, Queen Victoria, King George VI and so many other prominent names. Perhaps you will remember an article I wrote in 2006 about a long-ago issue of The National Message that paid tribute to thousands of departed pioneers and scholars who held to the Israel Truth, and whose work in the Pulpit, on the Platform, through the Press, and in Private Life, led to its acceptance by great numbers of people, and the formation of a large number of Associations throughout the English speaking world. Interestingly enough, included in that Roll of Honour were 35 members of Royalty,169 Ministers of the Cloth, high level political leaders, a Prime Minister of New Zealand being one of the most prominent; High Ranking Military men, including 4 Admirals and 15 Generals.
In America too a great number of prominent presidents, statesmen, professionals and so on were well of the Israel Truth, many current ones still are, but I like what Thomas Jefferson said in his Second Inaugural Address in 1805, "…. I shall need, too, the favor the Being in whose hands we are, who led our fathers, as Israel of old, from their native land and planted them in a country flowing with all the necessaries and comforts of life …"
So, you say, using the analogy of Peter, Paul & Mary's great musical number, "Where have all the flowers gone", what happened to the great surge of the unveiling of the knowledge of the Israel Truth in the early half of the twentieth century. Well, put simply! Two things! One was the formation of the Jewish state that took the name of "Israel". From that moment on, the idea took hold that the modern Israeli State was comprised of all of Israel. The second was the strengthening of the Esau Dominion and between the two, it ultimately became cultish to suggest otherwise. Unfortunately, True Israel world is still affected by "… blindness in part is happened to Israel …." Romans 11:25.
---
Our front cover pic this month and two of the articles reference the "Resurrection" so you might be interested to learn there are 280 verses in the New Testament bearing on the subject of the Resurrection.
---
I took the opportunity to watch the mini-series "The Crown" on Netflix and I have to say that if it is an accurate reflection of Queen Elizabeth, I was very impressed with her strength, at least in those early days. She came across as a thoughtful, strong and decisive monarch who could make the tough choices. I'm sure that age and the constant battering by her parliamentarians, seemingly more attuned to the EU and one worldism, has weakened her resolve over the years but maybe the tide is turning.
I was struck by the portrayal of her strong Christian stance in those days. It reminded me of something I read sometime ago about her words in 1949, when she was the heir apparent. She had written, "It would be a wonderful thing if Britain, which has set the standard for the world, could now lead the way in Christian morality and a spiritual revival. Men's consciences are uneasy. Much that seemed built on rock has shifted, as if the foundations were sand. But beneath that sand is one solid layer which nothing has been able to break. All that was best in us came from that layer, from the habits and wisdom bred by the centuries of Christianity. Today we are living largely on borrowed capital, inherited from previous generations, and bearing no increase now. Our children will suffer, if we have nothing more, nothing fresh, to offer them."
Alas, it didn't happen!
---
Speaking of Britain, Michael Clark, President of BIWF, England, gave me this snapshot of the EU Referendum which I think you will find interesting. He wrote, "The year 2016 was one of great thankfulness to Almighty God over the result of the EU Referendum vote on 23 June. We always knew that one day the LORD's command to His Israel people in the Appointed Isles to "Come out of her, My people" would take place. As the campaign developed there was a growing sense that millions were heartily sick of the European Union after 44 years of deception and betrayal and all was doing to undermine the sovereignty of the Realm. A turnout of 72.2% provided a conclusive result with a 52 % to 48 % majority". Ed: Stay tuned, the one worlders have not given up yet.
---
Here's a touchy one! A reader from Eastern Canada suggested the financial cost must be significant if Prime Minister Trudeau keeps his word to bring in 25,000 refugees from the Middle East. Well, as a Christian, we must feel the pain of those poor refugees, but also for those countries around the world that have experienced the tragedy of permitting the wolves in sheep's clothing to enter, that is, the violent ones. Canada has been fortunate and it is suggested this is due to their stronger vetting program. So, then, we must congratulate the government. But, there must be a huge financial burden that Mr. Trudeau' predecessor, Stephen Harper, foresaw because he opted for a much-less program.  So, let's consider this and see if it makes sense. I'm certainly no mathematician but here's what I gleaned from the internet. Canada has a population of roughly thirty-five million people and according to statistics, about half are in the work force and pay taxes. But, Statistics also tell us that approximately eight million Canadians pay less than $2.00 federal tax per year, so for the sake of calculations, let's estimate that tax-paying- Canadians approximate 15 million.
An American statistic suggests that it costs $65 million over a five-year period to look after just one refugee. That's roughly $87,000 in Canadian bucks. If these figures are correct, we have to consider that for every 1,000 refugees, it will cost Canadian taxpayers ($87,000 times 1000) or eighty-seven million dollars. Now, multiply the $87,000,000 by 25 and guess what you get?  Over two billion dollars! Or $141,000 average per taxpayer over 5 years ($28,200 per year).
A lot of money!